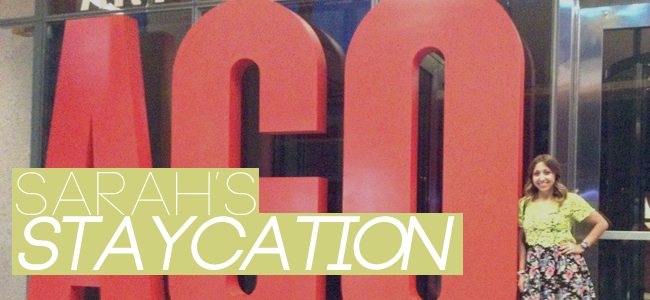 Of course everyone can use a vacation….ALL the time. But when most of us think "vacation," we think sandy beach, at least one flight, and much more time and money than we may have at a given time. But, there's a compromise that offers the pleasures of a vacation without the hefty price tag or time commitment – a short-term vacation right at home. So, thanks to the lovely people at the AGO and Starwood Hotels I embarked on my very own "staycation" right here in Toronto….
I enjoyed an amazing day and night in the city, relishing in just some of what Toronto has to offer. Sometimes we take for granted what's right under our noses and Toronto is truly one of the most beautiful cities in the world so let's appreciate it just like a Tourist would!
Spend the night(s)
Even if you only have one day off, maximize it by staying at a hotel in the city. The Sheraton Centre at Queen and University was perfect since it's in the centre of downtown Toronto and provides easy access to any attraction in the city. With such a prime location it's no surprise the view is great. Oh, and the bed was HUGE – I just knew I was in for a good night's sleep.
Do something fun
Next, plan to visit some major attractions; you know, the things you always WANT to do, but never get around to it? For me, it was the Art Gallery of Ontario to visit the exhibition everyone's talking about – Picasso: Masterpieces for the Musée National Picasso, Paris.
I'm not an art expert, and usually find myself rushing through galleries, so I was happy to take advantage of the audio guide. It's totally worth it to have the guide explain each piece, and walk you through all 7 rooms of the exhibit the way it was intended (I had the time, why not?). The exhibit is so big, and walks you through 7 periods of Picasso's life and art. You can spend half a day in this exhibit taking it all in. Some of my fave pieces: Dora Marr, Autoportrait au chapeau de paille, and La Celestine.
Indulge
Finally, indulge like you would on vacation. Eat at great restaurants and order or a bottle of wine (or two)! We worked up quite an appetite walking through the exhibition, so we headed to Frank Restaurant, which is located right in the AGO. I'd never eaten there before, but was always curious. To further celebrate the Picasso exhibition, we enjoyed the Picasso prix-fixe menu ($50), which showcased several flavours and dishes of Spain. The entire meal was incredible, but the two heroes of the night were the Paella Primavera (rocked my world) and the Churros. This was my first churros experience and I swear I could have eaten 20 of them.
For an overall AGO/Picasso experience: The AGO is offering a dinner and show package for $65 (includes admissions to the Picasso exhibition, audio guide, and 3-course prix-fixe dinner at Frank). Available by reservation for Tuesday – Saturday, 5:30 – 9 p.m., until the exhibition ends on August 25.
After filling up on good food and good wine, we were ready for that good night's sleep I was day dreaming about since stepping foot into the hotel room. We headed back to The Sheraton and I fell asleep as soon as my head hit the pillow. Sweet dreams would be an understatement. My only regret – not taking advantage of the indoor/outdoor pool and famous poolside cocktails at The Sheraton. Nothing says vacation like a poolside bar.
So if you're tight on funds or vacation time, take at least a day, but more realistically, a weekend to enjoy the sights, sounds and tastes of Toronto. Trust me, I'm already planning my next stay-cay!