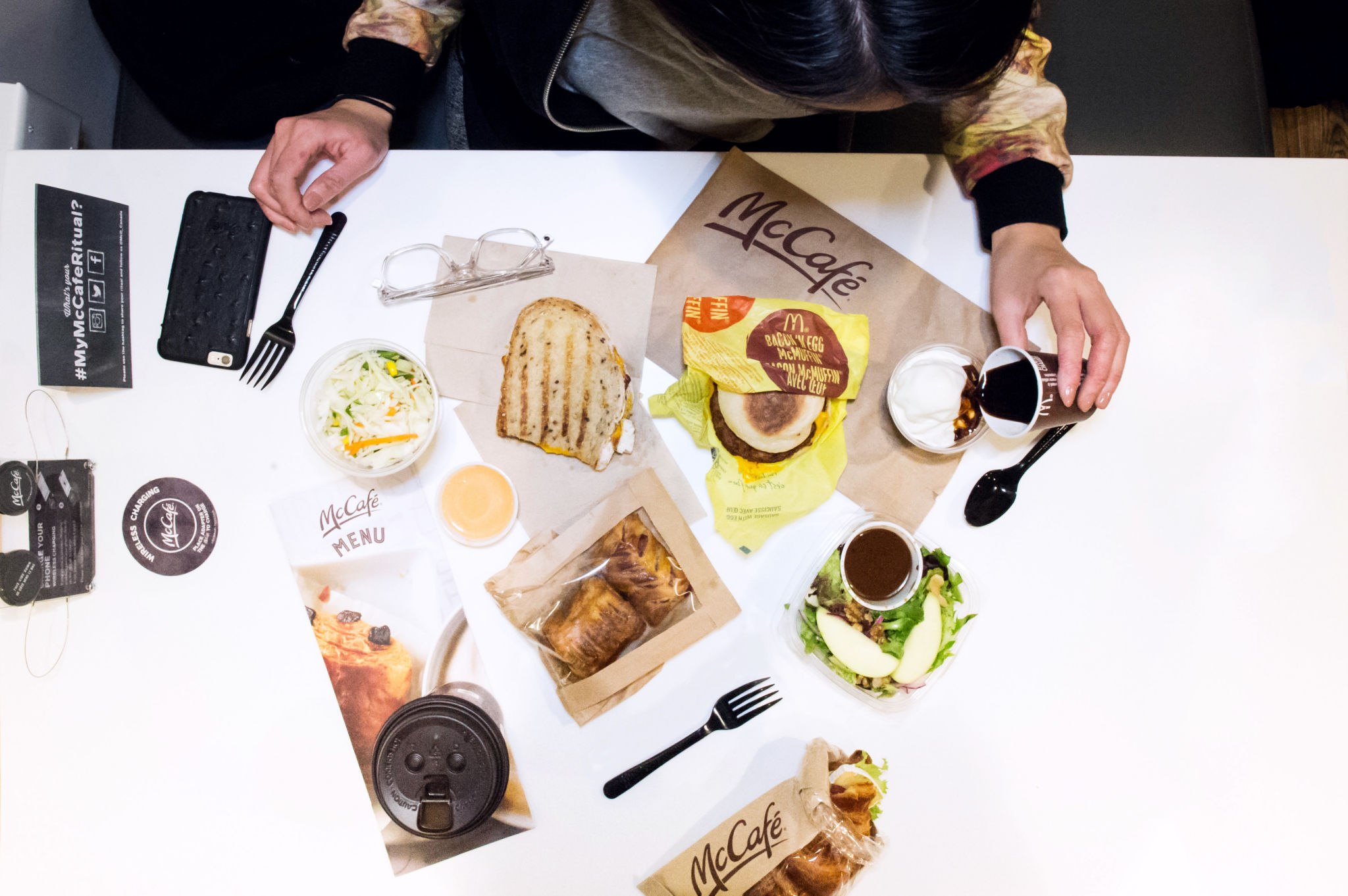 Photos by Stephanie Ho
You don't want to know the things I could do to a McCafé spread in 10 minutes. From affogatos (with signature McDonald's Soft Serve…) to fresh baguette sandwiches, the standalone McCafé's are a new take on the drive-by-coffee-shop spots.
Without fail, some of my most satisfied eating moments have been driving to my uptown McDonald's to grab a coffee + muffin (with a crispy muffin top, of course) or any other fresh baked pastries on hand. So, you can only imagine my outrageous excitement when an enhanced storefront came to be. #MyMcCaféRitual entails ordering with my eyes, and making sure I include a mini pastry every step of the way.
McCafé has recently opened up shop at the Exchange Tower in downtown Toronto (convenient, for anyone that stomps the PATH system underground), and their cozy, digital-savvy venue has you with snack + beverage in hand, in seconds. The menu is astonishingly robust, and full of healthy and well balanced options. And without too much further raving, yes, it's affordable and fine to repeat a few times in your week. Tempting? Yes.
Funny how they say that Canadians drink more coffee than tap water. 'Cause, it's true.
McCafé ushered in some of Toronto's stylish for an evening of coffee house acoustic guitar (live, of course), a smattering of samples when it came to their salads (Quinoa Salad? Apple Walnut? Wut?), sandwiches, and flavored coffees. I left oversatisfied and guiltless, with a handful of mini pastries. And with Sausage and Egg McMuffins offered all day, really, you can't find flaw.
Visit your local McCafé for some eats, treats, and hey, maybe your next coffee meet.
This post was sponsored by McCafé Canada.