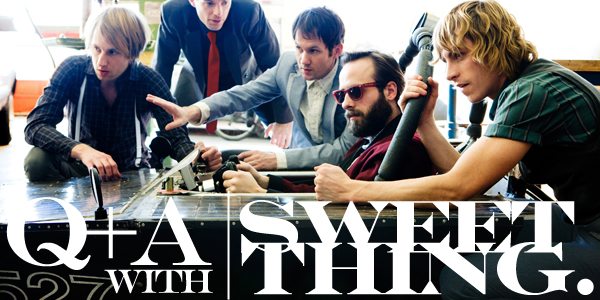 Sweet Thing wants to create music you can dance like a dork to, or even better yet, their songs make you feel as if you're walking on sunshine. It is pop-y, dance-y, and sing-along-y in the best way possible. This Toronto based quintet has an indescribable 'it' factor so do keep your eyes and ears open for their mind bogglingly catchy tunes. I got a chance to chat with the charismatic frontman Owen Carrier about their music, what's on his ipod, and of course his killer dance moves.
(1) First off, I love your new video "Lazy Susan"! Funny stuff, what was the inspiration for this video?
[youtube]http://www.youtube.com/watch?v=J2zldSzaoms[/youtube]
We're big fans of a BBC show called "Look Around You". Pick it up. Does a body good.
(2) Lots of your music is up-beat and dancy. Comparisons have been made to Franz Ferdinand and Spoon. Was that your intention? What are your musical inspirations?
We intended and continue to try to write, record and perform to the best of our collective abilities. This also means we draw from our collective and individual musical influences so the Bands you mentioned are certainly amongst them.
(3) What are your top 10 songs on your ipod?
No particular order:
Daft Punk – end of line
Ennio Moricone – Navajo Joe
Bon Iver – Re: Stacks
Bobby Womack – accross 110 Street
Bobby  Weems – Sunny
Kanye West – Power
Arcade Fire – sprawl II
Michael Jackson – baby be mine
Morning benders – Excuses
Radiohead – Nude
(4) You are really making a name for yourselves in the Music scene! "Change of Seasons" was featured in the movie "Easy A" and now nominated for a Canadian Radio Music Award. Congrats!!! But what is the one thing that you want to accomplish, and get that "you've made it" feeling?
I'll let you know when it happens.
(5) Where is your band heading next? (writing music? touring?)
In a constant state of writing and touring or just about to do one or the other. No plans to record just yet.
(6) You guys have toured with Canadian heavy-weights Arkells, Down With Webster and been a part of NXNE, Edgefest…the list goes on. If you could choose ANY band to tour with, who would it be?
There are many. I don't believe in making the "right" fit at all times either because I'd love a Concert where the Roots take the same stage as the Strokes. We could tour with Weezer, Devo, Lady Gaga, Brian Wilson, Boy George, so on and so forth.
(7) Now that we're starting fresh in 2011, looking back at 2010 – what were your favourite albums?
Lots! One of my favourite all time records was re-released so "exhile on main street"
Arcade Fire's "Suburbs"
Janelle Monae "Archandroid"
Big Boi "Sir Luscious"
LCD Soundsystem "This is Happening"
Let me stop there.
(8)  On stage, the band has such a fun vibe and everyone gets along so well. Any funny tour or performance stories you want to share with us?
All that fun attempts to fit every stage. Sometimes the stage shrinks but the performance remains as big. It's like a bull in a China shop and we love to show off the strange cuts and bruises that add up onstage where we look at them and go "I have no idea when THAT happened".
(9) And finally, Sweet Thing always insists that we get dancing, what is your favourite dance move?
The splits!
THANKS OWEN!
If you haven't checked out Sweet Thing yet, do it! They will be performing March 12th at Massey Hall in Toronto. This band has the personality, energy and music chops to get your on your feet and fist pumping the night away. Please enjoy responsibly!